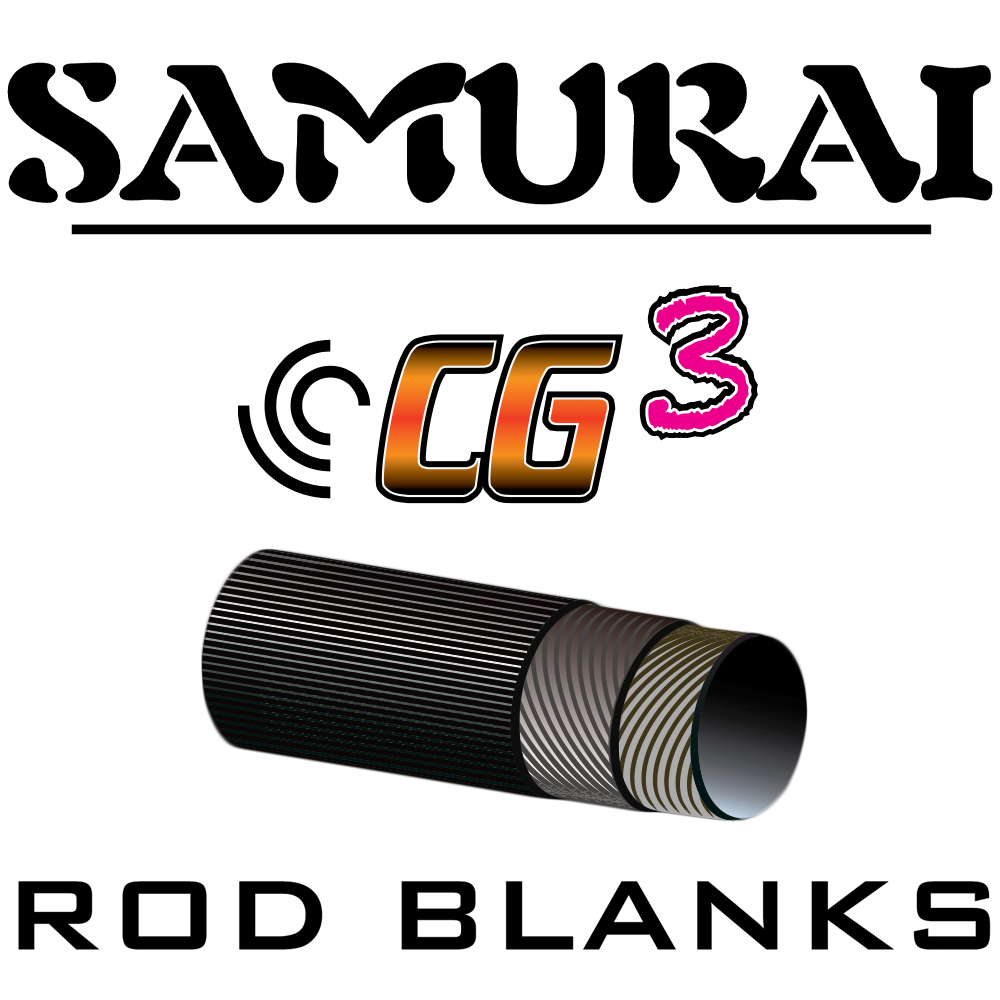 Samurai CG3 Blanks
Task specific blanks designed, suited and built for, Australian conditions.
Blanks require a shipping deposit of $25, see details at checkout.
---
---

Product Information
Add to my Wishlist
Login to create your wishlist
Samurai CG3 Blanks
CG3 blanks were born from the experience gained after many years of fishing in Australian conditions, for Australian fish species, coupled with the know how built on decades of blank design, manufacture and rod building. CG3 blanks have been built using advanced materials and manufacturing techniques delivering task specific blanks suited for, and built for, local conditions. Each individual CG3 rod blank has been designed, often going through multiple prototypes, to produce a specific action, depending on the anticipated primary use of the final built product. We haven't just made the blanks, we've built rods out of every blank to test them in the field before they go into full production. Along the way, each-and-every blank is tested across a pre-determined set of variables to ensure they are uniformly straight, have uniform tip and butt diameters and are equally light. That way, we know that each item in a model range is the same, with specific strength to weight ratios needed for the intended task.
Model
Colour
Length
PCS
Action
Lure Wt (gms)
Line Wt (lbs)
Butt Dia (mm)
Tip Dia (mm)
Information
Estuary
CG3-ES136
Charcoal
5'6"
1
Fast
5-15
6-12
1.6
Cast diving lures, surface presentations & spinnerbaits. Tip power & sensitivity as well as blank strength
CG3-ES156
Charcoal
5'6"
1
Fast
5-21
8-16
1.8
Cast diving lures, surface presentations & spinnerbaits
CG3-ES214-2
Charcoal
6'0"
2
Fast
2-10
2-6
1.4
Skinny water applications or for kayak and shore anglers looking to fish tight waterways
CG3-ES224-2
Charcoal
6'0"
2
Fast
3-14
3-10
1.5
Kayaks and shore based anglers fishing tight waterways. The shorter blank offers better control of fish in close quarters
CG3-ES314
Charcoal
6'6"
1
Fast
2-10
2-6
Ultra-light estuary fishing
CG3-ES314-2
Charcoal
6'6"
2
Fast
2-10
2-6
1.4
Ultra-light estuary fishing
CG3-ES324
Charcoal
6'6"
1
Fast
3-14
3-10
Versatile blank and can be used for many different build applications
CG3-ES324-2
Charcoal
6'6"
2
Fast
3-14
3-10
1.5
Versatile blank and can be used for many different build applications
CG3-ES356
Charcoal
6'6"
1
Fast
5-21
8-16
1.8
Cast diving lures, surface presentations & spinnerbaits.
CG3-ES414
Charcoal
7'0"
1
Fast
2-10
2-6
1.4
Ultra-light blank for all-round applications. Perfect for lures and bait.
CG3-ES414-2
Charcoal
7'0"
2
Fast
2-10
2-6
1.4
Ultra-light blank for all-round applications. Perfect for lures and bait.
CG3-ES424
Charcoal
7'0"
1
Fast
3-14
3-10
1.5
Refinement, precision & lightness. Flawless in design & stunning performance
CG3-ES424-2
Charcoal
7'0"
2
Fast
3-14
3-10
1.5
Refinement, precision & lightness. Flawless in design & stunning performance
CG3-ES436
Charcoal
7'0"
1
Fast
5-15
6-12
1.6
Medium weight estuary blank, perfect for lure casting and bait. Tailor made for Australian estuaries when a heavier rod is needed
CG3-ES436-2
Charcoal
7'0"
1
Fast
5-15
6-12
10.8
1.6
Medium weight estuary blank, perfect for lure casting and bait. Tailor made for Australian estuaries when a heavier rod is needed
CG3-ES446
Charcoal
7'0"
1
Fast
5-21
6-14
1.6
Built for those days when you need something a little more from your 7 foot rod
CG3-ES446-2
Charcoal
7'0"
3
Fast
5-21
6-14
1.6
Built for those days when you need something a little more from your 7 foot rod
CG3-ES456
Charcoal
7'0"
1
Fast
7-28
8-16
1.8
An estuary all-rounder. With the ability to throw larger lures up to 28 grams, it will handle anything you throw at it.
CG3-ES456-2
Charcoal
7'0"
2
Fast
7-28
8-16
1.8
An estuary all-rounder. With the ability to throw larger lures up to 28 grams, it will handle anything you throw at it. Lengths - Butt Section 490mm - Mid Section 670mm - Tip Section 1095 mm. The mid section is glued into the butt section to give 2 equal lengths or can stay separate depending on handle & grip assembly.
CG3-ES524-2
Charcoal
7'6"
2
Fast
2-12
3-8
0.9
Ultra-light blank that is a great long cast flats rod
Off-Shore
CG3-OS257
Charcoal
6'0"
1
Fast
7-28
10-16
2.0
Power meets performance and perfection. Designed to deliver the muscle and control needed for all styles of angling
CG3-OS267
Charcoal
6'0"
1
Fast
8-35
12-25
2.0
Shorter stouter blank
CG3-OS277
Charcoal
6'0"
1
Fast
10-50
14-30
2.2
Short but strong blank adaptable enough for a variety of builds.
CG3-OS287
Charcoal
6'0"
1
Fast
30-100
20-40
13.3
2.6
This blank would lend itself well to a strudy bait rod or jig stick
CG3-OS297
Charcoal
6'0"
1
Fast
60-150
40-60
2.4
Designed for dropping baits or jigs offshore. This blank is strong where you need power and sensitive so you miss nothing.
CG3-OS463
Charcoal
7'0"
1
Fast
8-35
10-25
12.7
1.8
Light offshore blank
CG3-OS463-2
Charcoal
7'0"
2
Fast
8-35
10-25
2.0
Light offshore blank
CG3-OS473
Charcoal
7'0"
1
Fast
10-50
14-30
13.9
2.2
Strong at the bottom end where you need it and sensitive at the tip to ensure you never miss a bite
CG3-OS473-2
Charcoal
7'0"
2
Fast
10-50
14-30
2.2
Strong at the bottom end where you need it and sensitive at the tip to ensure you never miss a bite
CG3-OS483
Charcoal
7'0"
1
Fast
20-80
20-40
14.3
2.8
Perfect offshore all-rounder for lures or bait applications
CG3-OS483-2
Charcoal
7'0"
2
Fast
20-80
20-40
2.8
Perfect offshore all-rounder for lures or bait applications
Subcategories