WE SELL LURES & TACKLE
The Rodworks sells a wide range of lure and tackle brands! Choose from Hand Airbrushed, Detailed Fish Attracting Holographic finishes, Big 3D Eyes, Varying Body Lengths and many Proven Colours!
Shop Lures and Tackle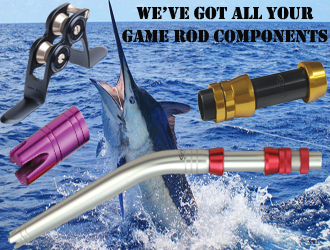 GAME ROD COMPONENTS
The RodWorks - specialists in Game Rod Components
Game Rod Components for a basic or sky's the limit build!
Browse our Game Rod Components
The perception that a custom built rod is too expensive has changed forever with modern blanks and components.
Having a purpose built rod for specific species or with your own choice of components is now a choice for every budget.
The RodWorks specialises in all custom designed rods. We stock and sell blanks and components from leading global manufacturers. We continually source new supplies and keep in sync with international and domestic fishing trends.
This website introduces you to a totally dedicated custom fishing rod building site, whether you are just looking for a few parts for a rod repair yourself or for us to supply you with the best quality and fit for purpose components for a new build. We can build it for you or we are always happy to help you work out what you need for your own project. The RodWorks is based in Adelaide, Australia and owned by Ross van Enckevort.