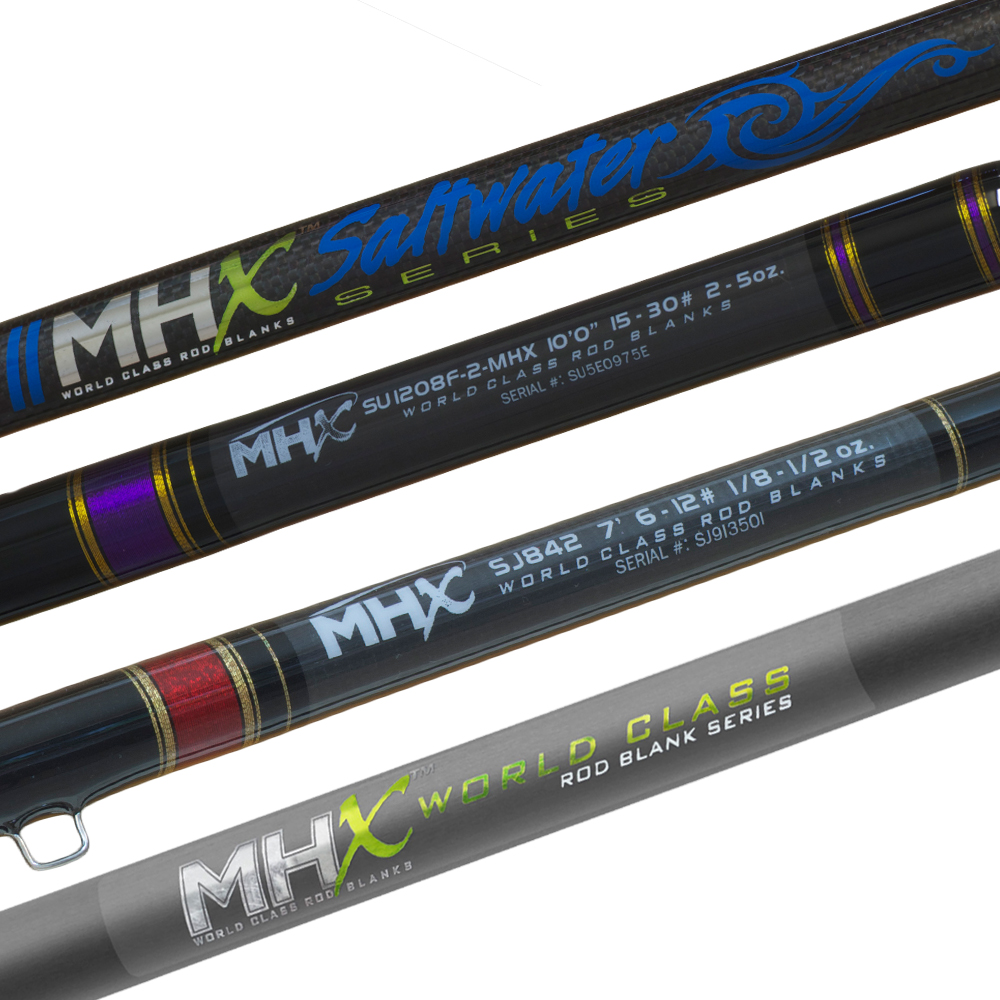 MHX Power Tip Saltwater
These rod blanks boost a revolutionary design that incorporate a tubular glass blank with a solid glass tip, which reduces the weight considerably from solid glass blanks, yet offers the same durability. All models are fast tapers with lightning fast tips.
Blanks require a shipping deposit of $25, see details at checkout.
---
---

Product Information
| | | | | | | | | | | | |
| --- | --- | --- | --- | --- | --- | --- | --- | --- | --- | --- | --- |
| Description | Colour | Length | Pieces | Line (lb) | Lure | Power | Action | Tip (mm) | Butt (mm) | Application | Weight (ozs) |
| PTSW54XH-MHX | Matte Black | 4'6" | 1 | 40-60 | | XH | FAST | 4.4 | 22.2 | | 8.0 |
| PTSW54XXH-MHX | Matte Black | 4'6" | 1 | 50-80 | | XXH | FAST | 4.4 | 22.2 | | 7.6 |
| PTSW66H-MHX | Matte Black | 5'6" | 1 | 30-50 | | H | FAST | 3.6 | 19.0 | | 8.75 |
| PTSW66XXH-MHX | Matte Black | 5'6" | 1 | 50-80 | | XXH | FAST | 4.4 | 20.2 | | 11.5 |
| PTSW72H-MHX | Matte Black | 6'0" | 1 | 30-50 | | H | FAST | 3.6 | 19.4 | | 10.125 |
| PTSW72XH-MHX | Matte Black | 6'0" | 1 | 40-60 | | XH | FAST | 4.0 | 20.2 | | 11.25 |
| PTSW72XXH-MHX | Matte Black | 6'0" | 1 | 50-80 | | XXH | FAST | 4.4 | 21.0 | | 12.5 |
| PTSW78M-MHX | Matte Black | 6'6" | 1 | 15-30 | | ML | FAST | 3.6 | 17.0 | | 6.75 |
| PTSW78MH-MHX | Matte Black | 6'6" | 1 | 20-40 | | MH | FAST | 4.0 | 17.9 | | 8.5 |
| PTSW84M-MHX | Matte Black | 7'0" | 1 | 15-30 | | M | FAST | 4.0 | 18.1 | | 8.1 |
| PTSW84MH-MHX | Matte Black | 7'0" | 1 | 20-40 | | MH | FAST | 4.0 | 18.4 | | 9.9 |